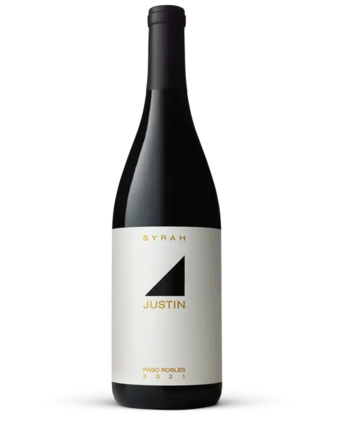 2021 Syrah
A new-world take on a classic
About the Wine
The 2021 JUSTIN Syrah is a full-bodied new-world take on a classic grape variety originally from the Northern Rhône in France. With complex character and versatility, this limited offering gets along well with a wide range of palates and food pairings, including a hearty dinner featuring flavorful meat dishes and rich starches.
Tasting Notes
Appearance
Bright, with a deeply concentrated purple core that lightens toward the rim with a ruby/purple hue and moderately staining tears on the glass.
Aroma
Black cherry and ripe dark plum notes accented by dried wild herbs, earthy leather, and sweet barrel spice aromas.
Palate
Showing mixed black fruits of currant, boysenberry, and black berry on full-bodied entry and a savory midpalate of smoky black olive, dried herbs, and toasted spice. The long finish is balanced with firmly structured tannins and acidity complemented by notes of ripe fruit and vanilla.
KEY FEATURES
Appellation

Central Coast

Fermentation

Stainless steel open & closed-top tanks with UV43 yeast and twice daily pumpovers

Maturation

Barrel-aged for 17 months in 28% new French oak

Alcohol

15.0%
SUGGESTED FOOD PAIRINGS
Seared Duck Breast
The 2021 JUSTIN Syrah is a solid counterpart to the heartiest of dishes because of its complexity and great balance of textures. Enjoy with a honey-glazed duck breast over butternut squash and farro-risotto or Kansas City-style pork ribs and traditional sides.