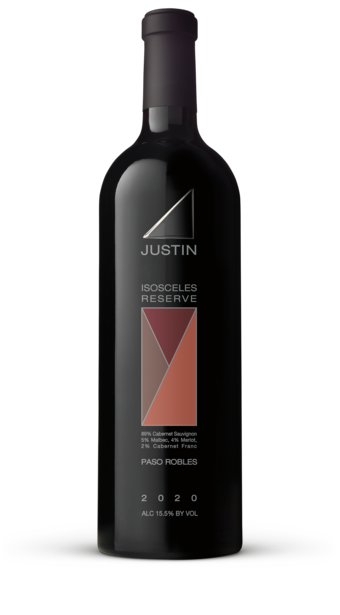 2020 ISOSCELES Reserve (6 Bottle)
Our pinnacle expression of a classic Bordeaux-style blend
About the Wine
ISOSCELES Reserve is built upon the exceptional quality and character of the Bordeaux grape varieties grown in Paso Robles. Each year, we draw from the most distinctive barrels from the top lots of each variety to decide the final blend for this outstanding wine. Impressive in its youth, ISOSCELES Reserve will cellar nicely, gaining new layers of complexity, revealing the wine's true potential over time.
Tasting Notes
Varietal Composition
% Cabernet Sauvignon

% Malbec

% Merlot

% Cabernet Franc
Appearance
Bright with a deeply concentrated purple/ruby core that lightens at the rim, with persistent, thick, slow-forming tears that stain the glass as they form.
Aroma
Aromatic with notes of baked black cherry, ripe blackberry, and juicy black plum, with suggestions of toasted oak and vanilla followed by dried violet and subtle mint notes.
Palate
Full-bodied with smooth baked blackberry, mission fig, and black currant flavors on the entry. The savory, complex midpalate features dried herbs, cedar, and wild mushroom followed by saddle leather and exotic toasted spice notes carried by balanced freshness and abundant velvety tannins that lead to a long, complex finish of sustained ripe berries, barrel spice, and a fresh herbal note.
Key Features
Appellation

Paso Robles

Fermentation

Stainless steel open- and closed-top tanks with UV43 yeast and twice-daily mixing

Maturation

Barrel-aged for 26 months in 100% new French oak

Alcohol

15.5%
SUGGESTED FOOD PAIRINGS
Filet Mignon
The 2020 ISOSCELES Reserve is rich and powerful without losing its grace or elegance, with both luscious fruit and grounding savory elements. This wine is rich and complex enough to be enjoyed on its own but is a perfect match with a classic filet mignon with traditional sides.