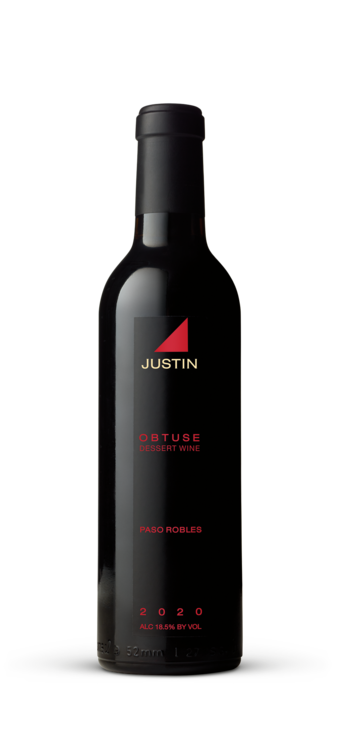 2020 OBTUSE 375ml
Our twist on a favorite, classic dessert wine
About the Wine
Made using the same method as a traditional Port, OBTUSE instead features Cabernet Sauvignon, our hallmark grape variety. A portion of the natural sugar from the grapes is left unfermented for a touch of sweetness that complements the varietal flavors of cabernet sauvignon. With only a few months in neutral barrels for some depth, OBTUSE has a crisp, clean finish when compared to traditional versions of this type of wine. It's a perfect wine to store in the cellar for one to ten years, or more, as it mellows and gains classic port-like complex earthy notes.
Tasting Notes
Appearance
Bright with a dark ruby core leading to a lighter ruby red rim. The wine clings to the glass with significant staining on the slowly forming and robust, moderately stained tears.
Aroma
Impressive with intense baked cherry and blackberry, boysenberry jam and mission fig fruit with cinnamon, clove, sweet tobacco, and dried sage.
Palate
Full-bodied and medium sweet with luscious black cherry, plum and blackcurrant on the entry. The mid-palate shows persistent lush fruit notes met with toasted hazelnut, allspice, and cinnamon with moderate tannins through a long, complex finish with cocoa nib, savory tobacco leaf and date with camphor highlights.
Key Features
Appellation

Paso Robles

Fermentation

Halted by adding 170 proof neutral grape brandy, leaving 9% residual sugar

Maturation

Barrel-aged for 9 months in 100% neutral French oak

Alcohol

18.5%
SUGGESTED FOOD PAIRINGS
Chocolate Dessert
The 2020 OBTUSE is a great pairing for most chocolate desserts, particularly with darker chocolate and is also perfect with a sticky-toffee pudding. Additionally, try it with ripe blue cheese, walnuts, and dried cherries for a classic, savory take on dessert.