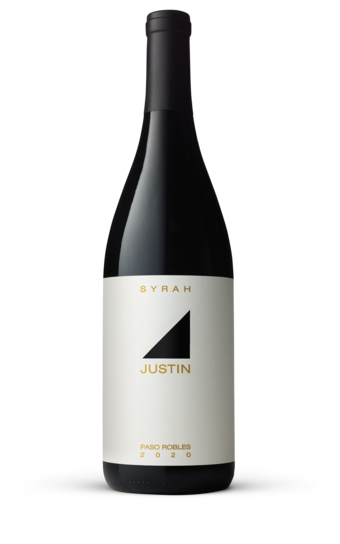 2020 SYRAH
A new-world take on a classic
About the Wine
The 2020 JUSTIN Syrah is a full-bodied new-world take on a classic grape variety originally from the Northern Rhône in France. With complex character and versatility, this limited offering gets along well with a wide range of palates and food pairings, including a hearty dinner featuring flavorful meat dishes and rich starches.
Tasting Notes
Appearance
Bright, with a deeply concentrated purple core that lightens toward the rim with a ruby/purple hue and moderately stained tears on the glass.
Aroma
Aromatic with ripe black cherry, plum, dried sage, vanilla, black pepper, leather, and oak.
Palate
Full-bodied with mixed black fruits of currant, boysenberry, and blackberry on entry and a savory midpalate of black olive, toasted spice, leather, and dried herbs. The medium-to-long finish is balanced with moderate tannins complemented by notes of ripe fruit and oak.
KEY FEATURES
Appellation

Paso Robles

Fermentation

T-bins and stainless steel closed-top tanks with UV43 yeast and twice-daily pump-overs/punch-downs

Maturation

Barrel-aged for 16 months in 22% new French oak

Alcohol

15%
SUGGESTED FOOD PAIRINGS
Seared Duck Breast
The 2020 JUSTIN Syrah is a solid counterpart to the heartiest of dishes because of its complexity and great balance of textures. Enjoy with a honey-glazed duck breast over butternut squash and farro-risotto or Kansas City-style pork ribs and traditional sides.